Vern and Linda Davidson
Mesa County, CO, USA
Please click on image for larger view.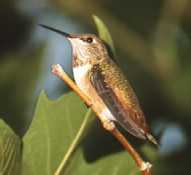 Black-chinned Hummingbird, Archilochus alexandri
I have taken lots of photos of this little hummer, as he hatched in a nest only about 10-ft. from our back door, in a nest built only 4 inches from the ceiling of our carport, secured to a 5/8-inch all-thread bolt used for lifting auto engines. This juvenile Black-chinned Hummingbird was 25-days old on the 15th day of August, hatched on July 21, 1998. Black chinned hummers are normally the only hummingbirds that visit our valley which include the city of Grand Junction, Colorado. I live in a rural area east of Grand Junction between Clifton and Palisade. I saw your site and thought you might want something a little different, as juvenile birds are rarely photographed when a person has a chance to really be sure what you are seeing.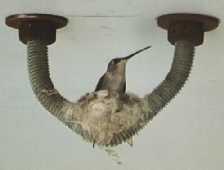 This Photo of the nesting female Black-chinned hummingbird was taken about July 21, 1998. This was approximately the date the single baby hatched.

Return to Photo Gallery Index
mgfx@mgfx.com
Last Updated: September 4, 1998
Site constructed and maintained by Mikula Web Solutions
© copyright 1998 Mikula Web Solutions; all rights reserved.